MASTER CENTER NOVI SAD
The "Master" Congress Centre of the Novi Sad Fair facilitates professional organisation of congresses, conferences, symposium, seminars, promotions, presentations, corporate events, fashion shows and similar events. Business people can receive the same quality service as provides by the most renowned European congress centres. The Grand Hall and six smaller halls cover 2,230 m2. Within the scope of the Congress Centre are a multipurpose entrance hall, an exhibition hall and a restaurant.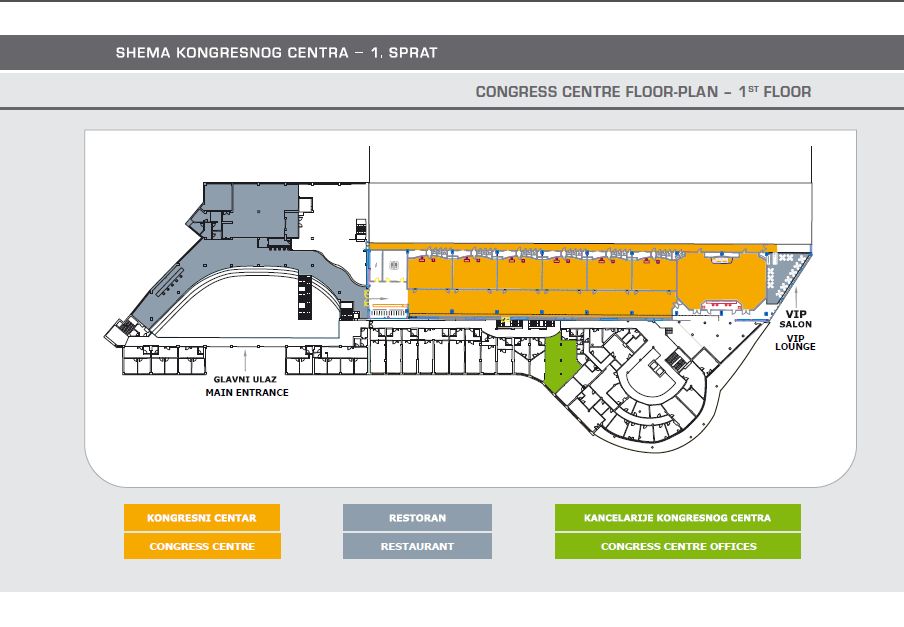 The large congress hall and six smaller ones  can be joined into one hall for the purpose of bigger events. The Congress Centre is furnished with the state-of-the-art audio and video equipment, necessary for quality organisation of meetings and presentations.
The large hall provides conditions for meetings with up to 350 participants. The smaller halls can accommodate 100 people, respectively, but thanks to mobile partitions, they can be joined into larger segments accommodating up to 1,000 people.
The Congress Centre also comprises an entrance hall, whose modern architecture and design facilitate organisation of larger events.
The gallery on the first floor seats 280, while the ground floor can accommodate additional 600 people. A buffet or direct service on both levels can cater for 1,500 people at a cocktail party, promotion or similar events.